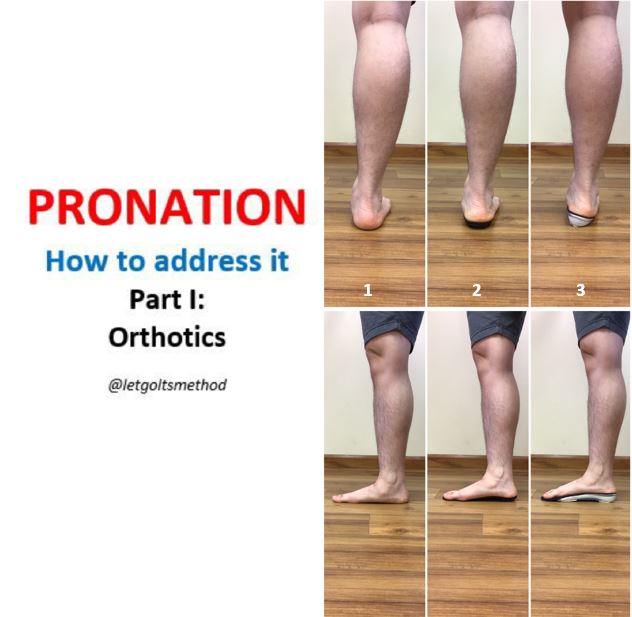 When people pronate, they're often told to strengthen the foot muscles to "build an arch" that sets the foot in a neutral position. However, this assumes that pronation is the same as flat feet, which it is NOT. If you haven't already, check out our previous pronation posts to get up to speed!
Remember, the issue with pronation is not with the arch, but with forefoot varus when the ankle is in subtalar neutral and the ball of the foot coming down to the ground when weight bearing. Therefore, training the muscles to create an arch helps minimally, as someone with forefoot varus will still pronate when the ball of the foot comes down. Even if the foot muscles can build an arch approximating subtalar neutral and are trained, they cannot maintain it 24-7: muscles eventually fatigue, causing the foot to pronate and the arch to collapse again—when dynamic movement is incorporated, that arch is even more likely to be lost.
So what corrects for pronation? The answer is orthotics: custom insoles made to keep the foot in a subtalar neutral position. This is achieved by supporting both the arch and the ball of the foot, such that it no longer drops when weight bearing—something that cannot be compensated for with foot musculature OR an arch support alone (pronation is a structural issue).
Many orthoses are actually just arch supports, but these don't help much and may actually make the problem worse! Without support underneath the ball of the foot to maintain the forefoot varus position, pronation still occurs when weight bearing: the foot rolls over the arch support, which can further exacerbate one's problems. Imagine shoving a rock underneath your foot and walking on it all day!
As seen in the photo, a pronated foot [1] still pronates on an orthotic that's just arch support [2] because the ball of the foot is unsupported. However, with the properly made orthotics [3], the ball of the foot is supported so the foot no longer pronates and can maintain a subtalar neutral position. That said, there are some (rare) cases of calcaneal or midfoot instability (WITHOUT forefoot varus) that do benefit from arch supports alone. It all depends on the foot structure!