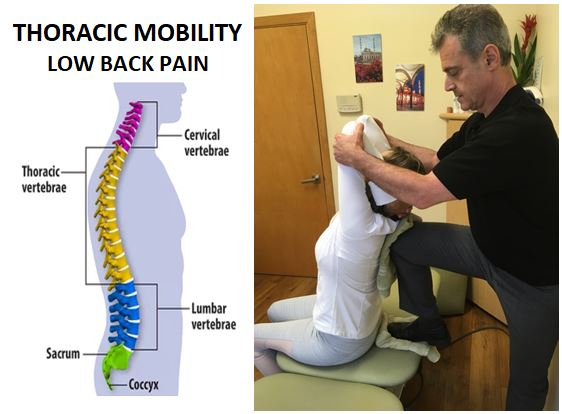 One of the most common complaints our patients have is chronic low back pain. We treat this in our clinic by addressing the body's compensation patterns. The path of least resistance is a concept applicable to many fields and physical therapy is no different. Since the entire body is connected, it shouldn't be a surprise that one area of the body can affect another. In other words, if a movement involves junctions A, B, and C, and one of those is stiff (e.g., B), then the other areas (e.g., A and C) will compensate by working even more to produce the same movement.
A common contributing factor to low back pain (LBP) is the mobility of the spine as a whole. When the thoracic spine gets stiff and doesn't move as well, movement will occur in the areas above and below. In other words, the lumbar spine will be forced to move more than it normally does due to thoracic stiffness. Over prolonged periods of time, that excessive movement and stress on the lumbar spine causes LBP.
In order to alleviate some of the strain on the low back, the thoracic spine can be mobilized such that the lumbar spine won't have to compensate for that immobility. Dr. Letgolts can be seen here mobilizing a patient's upper back. Extension of the thoracic spine can be facilitated by placing the knee against the stiff segments and pulling on the patient's raised elbows. Once those segments move better, the lumbar spine no longer needs to compensate. Given that the thoracic mobility is maintained, the low back pain should be alleviated.