If you've been suffering with a nagging pain and you've finally reached your breaking point or it's the case that you're an athlete and have recently suffered an injury which is preventing you from being at your best, then it's time to get rid of the pain and live your best with the Letgolts method of physical therapy.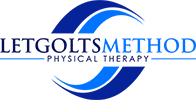 What exactly is the Letgolts method of physical therapy? The Letgolts method relies on science, mathematics, and a full evaluation of your symptoms and health history in order to come up with the best-fitting personalized physical therapy solution which will most effectively and most quickly remove the pain being experienced. The Letgolts method also focuses on the root cause of the pain and not simply on the symptoms. With the Letgolts method, our Doctors of Physical Therapy are better-able to tweak the physical therapy regimen and treatments in order to achieve faster recovery and the desired pain-free outcome as soon as possible.
If you're suffering from a horrible ache or pain or you've just suffered a sports injury and need to get back on the court, field, track, rink, or pool as soon as possible and with full abilities, then the Letgolts method of physical therapy can help. Learn more about the Letgolts method and Dr. Letgolts today by browsing through our website, https://letgoltsmethod.com/. If you have any questions or you'd like to schedule an appointment, then please call us today or you can use the contact form found on our website.