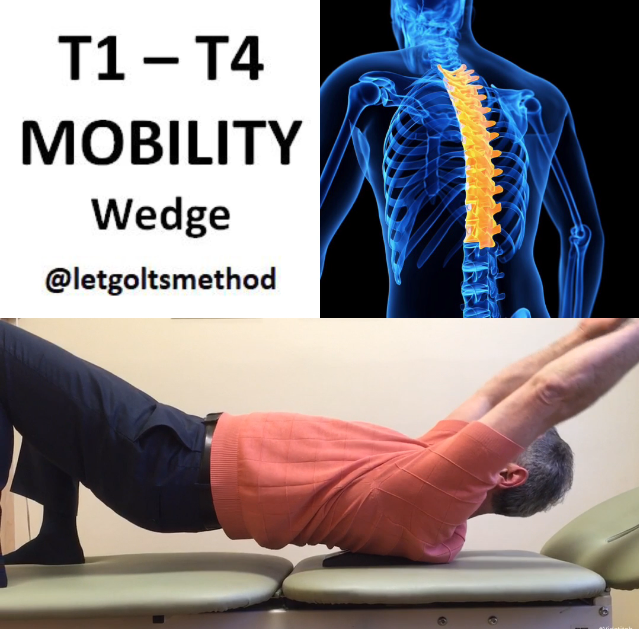 The wedge is often used by professionals to mobilize—i.e., crack—patients' backs. However, wedges can also be used for self-mobilization. This is a variation of the foam roller mobilization that was posted on Wednesday. For patients who have especially stiff upper thoracic spines, the wedge offers a more aggressive alternative to self-mobilize with when compared to the foam roller. Since T1 – T4 are very hard to mobilize on a foam roller, using a wedge also allows for a more specific placement of a fulcrum, to target those segments that get stiff.
Thoracic Spine (T1-T4) Mobilization – Wedge
What to do:
Find the stiff segments in the thoracic spine
Lie back on the wedge with the edge against the stiff areas
Gently lean backwards over the wedge while supporting the head
Bring both arms up over the head
Move the arms up and down 10-12 times.
The up-and-down movement of the arms combined with the wedge acting as a fulcrum helps further mobilize the thoracic vertebrae as the t-spine naturally extends with flexion of the arms.
For those who don't have access to a wedge, the same mobilization can be achieved with a foam roller placed lengthwise along the spine, with the end of the foam roller acting as a fulcrum against the upper T-spine. With this variation, it's important to use both hands to support the head as you're coming down onto the foam roller and coming up off of it, as seen in the video. A pillow can also be placed under the head to elevate it if too much pressure is felt with the head resting on the ground. See the video below: